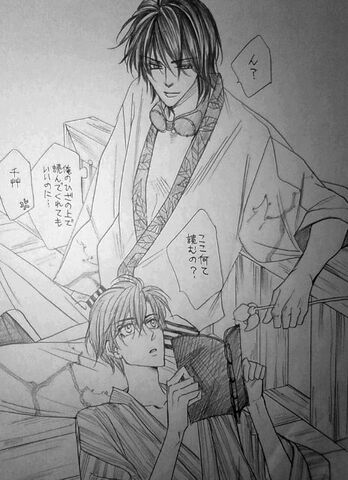 Chigusa: Hm?
Rakan: How do you read this part?
Chigusa: /I wish he would read on my lap instead.../
Narushige: Chigusa!
Note from Sugiura: I wanted to draw a carefree sketch that's totally different from the original story, so I'm letting Chigusa have some nice memories once in a while. But apparently sleeping on another's lap like this is quite normal with the younger guards. I don't think it's really all that odd, but I don't really know... Anyway, Narushige can probably read what's on Chigusa's mind.
Source: Photozou
File history
Click on a date/time to view the file as it appeared at that time.
Metadata
Ad blocker interference detected!
Wikia is a free-to-use site that makes money from advertising. We have a modified experience for viewers using ad blockers

Wikia is not accessible if you've made further modifications. Remove the custom ad blocker rule(s) and the page will load as expected.